mobi Doctor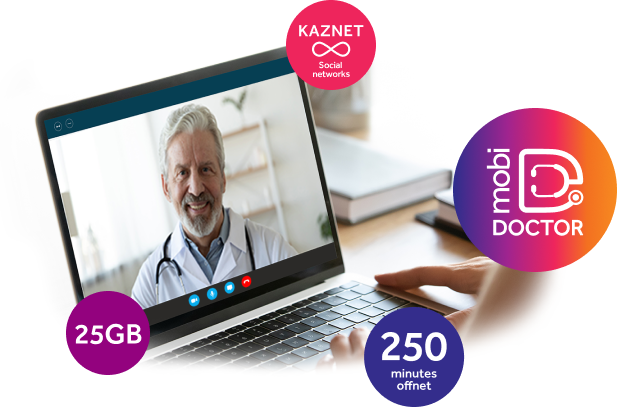 mobi Doctor
Switch to Jańa 3990 tariff and get 24/7 access to online medical consultations with the mobi Doctor doctors
Switch
The mobi Doctor service is provided in partnership with IMEDICUS LLP

Right here, right now
The mobi Doctor physicians are available 24 hours a day 7 days a week

Ask a doctor
not the internet
Qualified doctors of leading clinics in Moscow and St. Petersburg will be there to help you. Average doctor rating - 4.9 out of 5

Without borders
Service is available from anywhere in the world, where there is an Internet connection

Confidential
and secure
Ask any question, don't be shy. All your medical data will be safe and secure.
You can share any health issues or concerns:

Feeling unwell? Pressure, shortness of breath, chest pain, dizziness, heartthrob.

Acute abdominal pain, backache, nausea, vomiting, rash, fever.

Acute abdominal pain, backache, nausea, vomiting, rash, fever.

Called an ambulance, but takes too long to arrive?

Have doubts about a diagnosis?

Got lab test results and looking for prescription-related information on the Internet?

Can't get a doctor's appointment for the nearest dates when you need medical consultation urgently?

Need a doctor's advice on disease prevention or vaccination?

You are abroad and need help from a Russian-speaking doctor?
Where to begin?

Switch to the Jańa 3990 plan
Switch

You need to sign up on the mobi Doctor app or online at mobidoctor.kcell.kz

Get online consultations of a therapist without extra fees and data charges on the 'Doctor' package
Take care of your loved ones by activating extended package Doctor +
Three online consultations per month with a pediatrician or a general practitioner
Get advise on medication, including drugs analogue and interaction
Lab test explanations and recommendations
Need a second opinion?
As part of the "Doctor +" package, obtaining a second opinion from a doctor after a diagnosis has been established (by appointment, 3 consultations per year)
Cost of Doctor+ package
1690 ₸/month
To activate Jańa 3990:
*595*1#
To deactivate:
*595*2#
Feedback
E-mail
Info@imedicus.com.kz