Meet eSIM — embedded SIM!
Meet eSIM — embedded SIM!

e-SIM
Instructions
What does e-SIM look like?
eSIM (embedded SIM) features:
• larger memory than a regular SIM card;
• multiple numbers on one device (can be from different network providers);
• ability to activate only one of the eSIMs and nano-SIM;
• no need to use a physical SIM card module.
---
Devices that support eSIM:
iPhone XS, iPhone XS Max, iPhone XR, iPhone 11, iPhone 11 Pro
Soon on Huawei Phone Android!
On some Apple devices (e.g. purchased outside of Kazakhstan), replacement of regular SIM to eSIM was unsuccessful on Kcell\activ network.
---
How to use eSIM?
Get a QR-code at Kcell/activ stores.
In future, replacement / adding eSIM will be available through our self-service systems.
Aktau
micr. 11A - 7 build, ATRIUM Business Center
Aktobe
Abul Khair Khan ave, 55A
М.Mametova 4 str, KeruenCity Mall, 4
Almaty
Samal 2 100
Aport MALL, Tashkent route 17K
Timiryazev str, 2G
Gogol str, 58
Rihard Zorge str, 18, MART MALL, 1 floor
Rozybakiev str, 263, MEGA-2, 1 floor
Alimzhanov str, 51
Samal 2, 111 "Dostyk Plaza"
Atyrau
Guryev str, 4
Kurmangazy str, 13B
Karagandy
Nazarbaev ave, 18
Buhar-Zhyrau ave, 59/2, CityMall, 1 floor
Kokshetau
Akan Sery str, 91
Kostanay
Altynsarin str, 122
Kyzylorda
Korkyt ata str, 21
Nur-Sultan
Respubliki ave, 8
Almaty str, 1,ASSYLTAU Business Center
Kurgalzhyn rote, 1, KeruenSity Mall, 1 floor
Turan ave, 37, Khan Shatyr Mall, 1 floor, boutique 169
Oskemen
Nurmagambetov str, 42
Pavlodar
Krivenko str, 77
Petropavl
Auezov str, 168
Semey
Kabanbay batyr str, 58 А
Taldykorgan
Shevchenko str, 135/141
Taraz
Nietkaliev str, 7A
Turkistan
Tauke Khan str, 243, Keruen Saray Mall, 2 floor
Uralsk
Evraziya ave, 71
Shymkent
Taukehan str, 13, Mega Planet Mall, 1 floor
Turkestan str, 11
---
Important:
• The QR code is provided on a plastic carrier;
• Replacement cost on eSIM - 1000 tenge.
How to replace a regular SIM with eSIM and add number:
• make sure your device supports eSIM;
• get a unique QR code from Kcell;
• make sure you are connected to the Internet (Wi-FI is preferable);
• in your phone settings, select: Settings - Cellular communication - Add a mobile tariff;
• scan the QR code.
---
You can assign a number for making calls.
iPhone: Settings — Cellular — Default number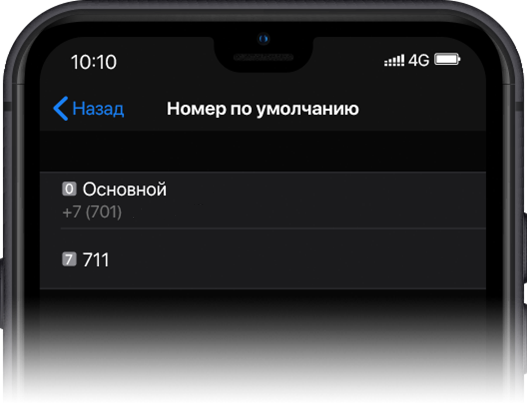 ---
Before making a call, you can change the number from which you want to make it by clicking on the caller icon and selecting one of the available numbers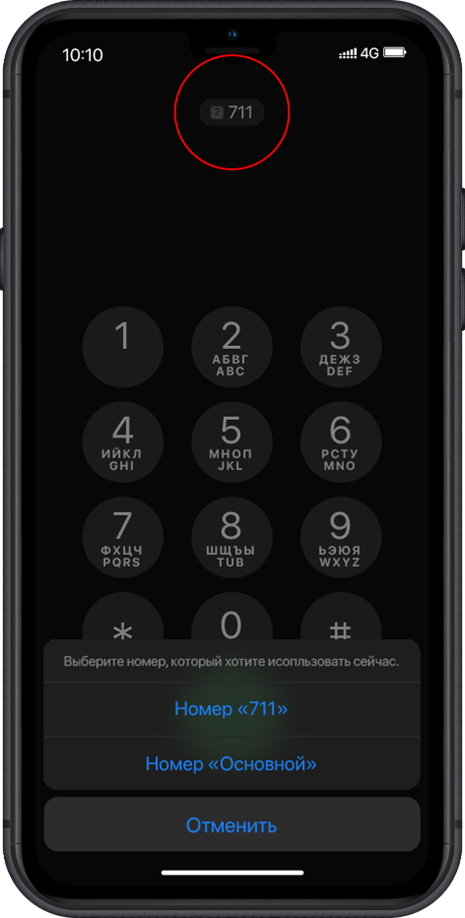 ---
You can assign a number you will use to access the Internet: Settings — Cellular — Mobile Data.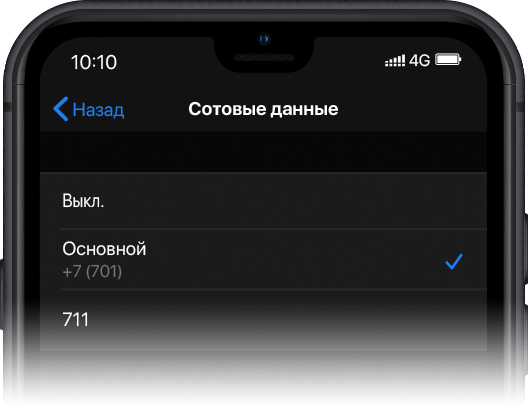 Procedure for registration of the eSIM to your phone. To register a device, send the following info in response to the message from 6006: if you are a KZ citizen – your IIN (only 12 digits), if you are not a KZ citizen – your passport details and your full name (separated by a space: e.g. Passport#_last name_first name_middle name). To find out the IMEI code, dial *#06# on the device that uses the eSIM.